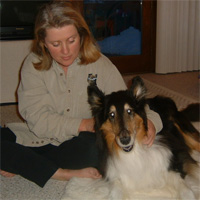 An animal rescuer as a little girl, my passion for helping animals became a reality over a decade ago when I began helping and fostering dogs of all breeds with special needs. I was the one who always volunteered to foster the medically needy dog, the senior dog, the shy dog. After all these years of fostering perhaps 100 dogs, I have two senior Cavalier King Charles Spaniels (both lived many years in puppy mills), and a gentle couch potato senior Coonhound.  All are sweet and LOVE other animals.
It's been my dream to offer a "home away from home" for dogs, including special needs dogs. I live in a sunny, comfortable contemporary ranch home in Southwest Madison, with a fully fenced yard. Unlike other dog care facilities, I offer a quiet, cage free home away from home for special dogs with, or without special needs. I graduated from the UW-Madison in 1973 with a BA in Social Work. After all these years, I am using my life experiences to provide dogs with a special home away from home.
I hope you will come and visit us!