Having rescued puppy mill breeding dogs for the past 5 years, my heart is near and dear to their plight. I am hoping that someday puppies won't be available in pet stores, and that people won't buy any puppies or kittens unless they can meet the parents and make sure that they aren't living their lives in a cage. Here is the good news from Chicago: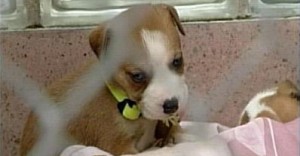 "EXCELLENT NEWS"… A HUGE WIN IN THE FIGHT AGAINST PUPPY MILLS" ITS OFFICIAL… NO MORE PUPPY MILL DOGS, CATS OR RABBITS IN PET STORES IN CHICAGO. WOO!!! HOO!!!
Chicago aldermen on Tuesday voted 49-1 to ban the sale of dogs, cats and rabbits from "puppy mills" at city pet stores. Check out the full story at www.nbcchicago.com.